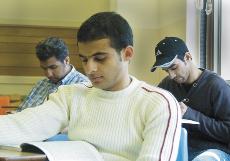 With the recent influx of Saudi Arabian students sponsored by their government, many American campuses have scrambled to become more attractive to this growing cohort. Very suddenly, says Susan Sutton, associate dean for the Office of International Affairs at Indiana University-Purdue University Indianapolis, "There became a visible Middle Eastern presence when we hadn't had such a presence in awhile."
Two years since the Saudi government scholarship program started and thousands of Saudi students at U.S. campuses later, the interest in better supporting the Saudi Arabian student population – and averting any backlash to their presence in large numbers in unexpected places like Missoula, Montana – remains high. "In addition to reaching out to them in a proactive sense, one could easily state that we've reached out to the campus as a whole practically," says Brian Lofink, the liaison for international programs at the University of Montana. "It's a two-way street."
Educational Efforts
Not surprisingly, many if not most of the efforts to better serve Saudi students focus on education of all sorts. At Montana, international education staff members reached out to residence life and custodial services personnel to alert them to Muslim pre-prayer washing rituals – with the goal being that neither the janitor nor the freshman from Florida would then be shocked to walk into a dormitory bathroom and see a student washing his feet in a sink.
Colorado State University, which has about 150 Saudi students now, trained more than 700 faculty and staff on Middle Eastern culture, educational systems, and cross-cultural communication, and also sponsored a Middle East Training Workshop series with a U.S. State Department grant, says Mark Hallett, director of international student and scholar services.
At Indiana's Indianapolis campus, fall-out from an incident in which local police pulled a group of newly arrived Saudi students from a crowd celebrating the Final Four tournament to accuse them of ticket scalping — "They didn't even know what a ticket scalper was," IUPUI's Sutton says — gave way to the creation of a video to be used to train police officers about cultural sensitivity. And throughout Indiana, a $13,500 collaborative training grant from NAFSA: Association of International Educators and the State Department has helped foster training in cross-cultural understanding, says Heidi Gregori-Gahan, director of international programs and services at the University of Southern Indiana.
"We were anticipating that with this huge influx into our communities that there might be a backlash," says Gregori-Gahan, who came up with the idea for the statewide effort to respond to the increase in Saudi students. The grant provided funds for a "Train the Trainers" workshop, in which a small group of staff from about 15 institutions throughout Indiana discussed what can be done to smooth the intersection of Saudi culture and American higher education. "What we were primarily concerned about is where those aspects of culture and/or religion would impact the classroom, the way that people learn," Gregori-Gahan says – describing the Saudi emphasis on oral argument skills, for instance, as a possible barrier for instructors who might be surprised or otherwise offended by a Saudi student's steadfastness in speech in the classroom. "Suddenly, when you learn about aspects of the culture, it all makes sense," Gregori-Gahan says.
Those "trainers" then continued the discussions back at their own colleges, and each participating institution was also eligible for a $200 grant to present a program on Arab culture. Southern Indiana, for instance, developed a program on women in the Middle East, and has taken Saudi students to speak to groups of schoolchildren. "This is maybe the first time these kids have ever met somebody from the Middle East," Gregori-Gahan says. "You see those stereotypes, if there are any, breaking down."
"You can't help but feel," she says, "that the good effects are rippling throughout the communities."
The Challenges
But the influx of more than 10,000 Saudi students in a matter of two years, compared to a base of just over 3,000 Saudi students studying in the United States in 2004-5, has also posed its problems — and not just when it comes to the notoriously tricky territory surrounding visa applications and approvals in a post 9-11 world. Many of the concerns center upon inadequate preparation on the part of a substantial subset of scholarship students (the Saudi cultural mission did not respond to a request for information on eligibility requirements for the scholarship).
In a March roundtable discussion on Saudi students sponsored by Institute of International Education (IIE), educators identified key challenges including "discerning students' real skill sets and students' criteria for eligibility for academic programs" and "accommodating for the disconnect between some students' interests in highly competitive programs and actual skills and credentials," according to an article in the forthcoming fall 2007 issue of the IIENetworker by Jamal Alsayyed of the University of Arizona's Office of International Student Programs and Services.
Under the scholarship, students are eligible for a year to 18 months of English language instruction prior to beginning their degree program. However, with many students coming in at very low levels of English proficiency, some aren't rising to the expectations within their allotted time limit. "We have seven levels [of English language instruction] and we were getting some of the students at two and three," says Jeff Adams-Davis, director of the English Language Training Institute at the University of North Carolina at Charlotte. "Some of them were getting frustrated and went to technical school or elsewhere."
"It appears the first influx of students really was never screened academically," says Jerry Wilcox, director of the international office at the University of Texas at Austin. UT's Austin campus, Wilcox says, received a relatively small number of Saudi students on the scholarship because it did not offer a guarantee of admission to students who completed the English program. Officials at other institutions, like Arizona State University, had to scramble to come up with a procedure for conditionally admitting students without a Test of English as a Foreign Language score. Alsayyed's IIENetworker article lists other successful practices for admitting Saudi students with ambiguous credentials, including requiring that they first enroll in a community college for a semester or admitting students to less demanding majors while offering them the option to switch at a later date if they succeed academically.
Deborah Healey, director of the English Language Institute at Oregon State University, adds that while low English language proficiency has been a problem with many Saudi Arabian students studying on scholarship at her institution, many of the challenges that surround serving the Saudi students stem from the fact that universities like hers were swamped with, well, tons of undergraduates at once. In just the first academic year of the scholarship program, 2005-6, the balance of Saudi undergraduate and graduate students shifted dramatically, according to IIE: In 2004-5, 52 percent of Saudi students studying in the United States were graduate students. In 2005-6, just 29 percent were. The percentage at the undergraduate level, meanwhile, climbed from 36 to 49 percent in that time, and the proportion of students classified as "other" — which includes intensive English language learners — increased from 8 to 22 percent.
"Having a large cohort of undergraduate students meant you have to deal with the same issues as all undergraduates: You know, 'How do you wake up in the morning?'" Healey says.
"You have to sit there and tell them exactly what they need to do," says Zohreh Sotoodeh, director of international undergraduate admissions at Arizona State University. Arizona State — which received 30 inquiries from Saudi students looking to apply in the two days before staff even confirmed the existence of the scholarship program back in fall 2005, and which subsequently received almost 500 applications in three weeks – assigned an adviser just to help Saudi students.
With such a big group of students from one country, says Sotoodeh, "You have to put in more time….You can't just let them loose."
Integrating Saudi Students, Academically or Otherwise
But by and large, the recent history of Saudi-U.S. interaction on U.S. campuses is characterized by "broad failures," says Grant Smith, director of research for the Institute for Research: Middle Eastern Policy, a Washington think tank supportive of increased relations with the Arab world that conducted an online survey this spring of Saudi students in the United States. The results suggested that Saudi students are spending more time with other Saudis than they are with either American students or foreign students from other countries, and many feel they're receiving only "average treatment" from tutors and teaching assistants.
"Some of the reasons that you'd think we'd want these students here in terms of integration, getting to know us, our way of life – they're not happening," says Smith.
That's not to say however that most international educators aren't keenly aware of the challenges when it comes to academic and social integration, and are actively mindful of the gaps. Many universities, including Oregon State and the University of Montana, offer "bridge" programs in which students enroll in a credit-bearing course while completing their intensive English coursework, in order to ease students' transitions academically. Culturally and religiously speaking, universities have dedicated spaces for Muslim prayer and worked with dining services to offer Halal food options – marked at Montana with a sticker so that Saudi students can identify permissible food even if their English isn't up to part just yet.
Colleges have also made stabs at stemming social divides. Sutton of IUPUI's international office remembers one moment at a campus International Festival this year when the Saudi dance performance became a smash hit. "The American students in the crowd…they got into it. The drumming was infections and pretty soon there were other students jumping in and suddenly everyone was dancing. You think, this is one of those moments. This is what our careers are for."
And it's been an unusually warm summer in Missoula this year, says Lofink of the University of Montana — where there's some anecdotal evidence to suggest that the Saudi students are assimilating quite nicely.
"They're actually getting to the point where they're complaining about high temperatures."
Original Article: http://www.insidehighered.com/news/2007/08/16/saudi
Copyright — Elizabeth Redden Inside Higher Ed
People who enjoyed this post also read: