We hope you are planning to attend one of the Al Jamiat US University fairs this fall. Here are a few tips to remember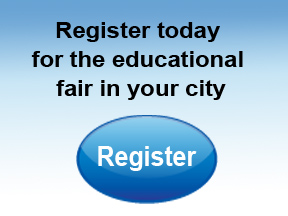 that will help you get the most out of the experience. To see the list of city stops on the 2009 fall tour visit here.
Tip One: Pre-Register
By filling out your registration form online here before the fair you will save time and avoid a line when you arrive. If you are registering for Beirut, Amman or Aqaba you will receive a barcode to use during the fair. All you need to do is have the universities scan your code and they instantly have your information. It is a simple and easy process.
Tip Two: Do your Homework
Before coming to the fair take a look at the list of universities attending. Learn more about the schools you are interested in and see what programs they offer. You will not have time to talk to everyone at the fair so pick your priority schools you definitely want to meet. There are short bios of each school available online here.
Tip Three: Be Prepared to Answer Questions
Have you thought about what you want to study? Universities may ask in what programs you are interested in, your current year in school and average test scores or grades. It is helpful to have these answers ready for conversation. The representatives will be better able to answer your questions knowing more information about you.
Tip Four: Be Prepared to Ask Questions
It is also a good idea to prepare some of your own questions. What do you want to know about a university's admissions process, academics or social life on-campus? These university representatives are here to answer your questions. They want you to learn as much as possible about their school. There are no stupid questions – so please ask away.
Tip Five: Pre-Register!
Wait, did we already mention this? You must be registered to enter the fair so there is no reason not to register before you show up. Save yourself the hassle and time by skipping the long line. Here is the registration link one more time in case you missed it.
People who enjoyed this post also read: