ST. LOUIS (AP) — For 20 years, Southern Illinois University-Carbondale's enrollment numbers have languished, proving so vexing it cost a top campus administrator his job in 2006.Much of the problem, the chancellor contends, is that would-be students from Illinois bolted to other states on the promise of sweet tuition deals.
Now, the university is fighting back: This fall, it will begin offering in-state tuition to first-year students from neighboring Missouri, Kentucky and Indiana.
Across the country, a bidding war of sorts has developed over prospective students seeking bargains in a bad economy. While some universities have long tried to lure students across state lines with lower tuitions, such incentives are gaining popularity as the nation's financial meltdown has withered families' college savings and home equity to help pay soaring education costs.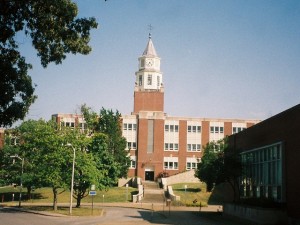 "We're certainly seeing an acceleration of that" push to offer tuition cuts for its out-of-state scholars, said Bob Sevier, senior vice president of Iowa-based Stamats Inc., a consultant to colleges and universities about marketing, student recruitment, fundraising and strategic planning.
"It's something that should have been done a long time ago. This is not a gimmick. This is good public policy," Sevier said.
And to Sam Goldman, SIU-Carbondale's chancellor, it's unavoidable. "We're in probably the most competitive environment I've ever seen in higher education right now," said Goldman. (SIU's second, smaller campus in Edwardsville is also cutting tuition, but not quite as sharply.)
Other universities have similar designs on recruitment.
In North Dakota, for example, the state's Board of Higher Education recently approved offering in-state tuition to out-of-state and international prospects.
That's something Minot State University last month pushed to make big use of by hiring two new recruiters, hoping to lure more students from Canada and Washington state.
Such efforts come when "the economic downturn is kind of churning the college market a little bit," prompting many colleges and universities to evaluate ways to remain viable, Paul Hassen, a spokesman for the National Association of State Universities and Land Grant Colleges.
"The higher education market changes constantly, and each institution has its own challenges and opportunities," he said. "Programs such as offering in-state rates to out-of-state students or some other way of packaging a pricing structure will occur. It's a matter of fiscal survivability."
Last month, an independent report on American higher education flunks all but one state — California, which got a C — when it comes to affordability. The biennial study by the National Center for Public Policy and Higher Education, which evaluates how well higher education is serving the public, found that almost everywhere the average family's cost of education is up.
In Illinois, the average cost of attending a public four-year college has jumped from 19 percent of a family's income in 1999-2000 to 35 percent in 2007-2008.
At Southern Illinois, tuition has jumped from $2,865 in 1999 to $6,975 this year for in-state students; during the same span, nonresident tuition ballooned from $5,730 to $17,437. The school's student numbers shrank by 1,650 along the way to 20,673 now — well below the 24,084 that went there in 1990.
That lagging enrollment came to a head in November 2006, when the university's president, former five-term congressman Glenn Poshard, ousted Walter Wendler as the Carbondale school's chancellor. "We're the only public university in the state losing students. We have to turn this around," Poshard said then.
In trying to do just that, Southern Illinois University's board voted to extend in-state tuition to first-year students from Missouri, Kentucky and Indiana. After the first year, the students could qualify as Illinois residents. The current out-of-state rate is 2.5 times the price charged to Illinoisans.
Such moves apparently have worked elsewhere. According to Hassen's group, Penn State from 2005 to 2008 has seen 47 percent more out-of-state students accepting offers from the school since it began offering a reduced tuition rate at 19 of its 20 campuses for the student's first two years.
Other university systems, while also trying to pad out-of-state recruiting, aren't feeling as generous.
University of California officials, for instance, reportedly are mulling expanding its out-of-state recruiting but not give those students in-state rates. Out-of-state students in that university system now pay $20,000 a year more than in-staters — a premium that can be a handy revenue stream when the state's budget is tight.
In Carbondale, Goldman says it's far too soon to tell whether Southern's tuition push to lure more out-of-state students is making a difference, though he insists the feedback so far has been encouraging.
"I've bumped into people from out of state here who have said, told me point blank, that because we reduced it they are coming here," he said. For each student, "the tangible difference is $10,000. It's that much. It's like we're giving them a scholarship; it's not, truly, but that's the equivalency."
People who enjoyed this post also read: