I had the opportunity to study abroad in Australia last fall. It was my first time leaving the country and naturally I was anxious to go. I knew the semester would hold a lot of first time experiences for me. Even simple activities, like taking the bus would become new adventures, since I was used to driving everywhere at home. I remember calling my mom during the first week to explain my frustration when I couldn't find certain foods in the grocery store. I spoke the language, but was still far from home and familiar surroundings.
During orientation for my study abroad group, we went abseiling (rappelling) in the Blue Mountains outside of Sydney. I was really put to the test of trying new things, since I'm terrified of heights and didn't like the thought of lowering myself down the face of a cliff. I pushed myself to try it anyway and now I'm grateful I did. Not only was abseiling a lot of fun, but I also think it helped set the tone for the rest of my semester. I went on to try many new things and met a lot of really amazing people because of my efforts.
"Stripped of your ordinary surroundings your friends your daily routines your refrigerator full of food your closet full of clothes – with all this taken away you are forced into direct experience. Such direct experience inevitably makes you aware of who it is that is having the experience. That's not always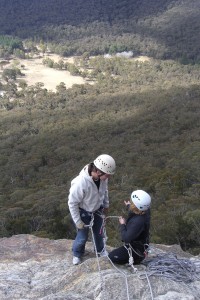 comfortable but it is always invigorating." -Michael Crichton
It's definitely not easy to step outside your comfort zone, especially when you're surrounded by new people in an unfamiliar place. It would be my challenge to every student to try and break down those barriers holding you back. Whether you are spending a semester abroad or seeking your full degree, push yourself to try new things and take every opportunity presented to you.
Next week I'll be taking a trip to Europe with a class and then traveling a couple weeks with my sister. I've already made plans to meet up with a group of locals I've never met before to have coffee one morning. I have that anxious feeling again, and I've never been more ready. I'm anxious to meet new people and start another adventure.
What story would you share about a time you stepped outside your comfort zone?
Hannah DeMilta is a senior at Otterbein College studying Public Relations with a minor in Deaf Culture and Language (ASL). She has studied abroad in Australia and loves traveling whenever possible. She has held several internships in the PR & communications field and hopes to work in the non-profit sector one day. She also loves speaking with students interested in studying abroad, so please feel free to start a conversation: http://www.linkedin.com/in/hannahdemilta
People who enjoyed this post also read: