Since its establishment in 1869 Purdue University has twenty-three graduates that became astronauts, including Neil Armstrong – the first person to walk on the moon – and Eugene Cernan – the last person to walk on the moon.
Purdue is a public research university located in West Lafayette, Indiana with 13 academic colleges and schools offering 200 high-quality and engaging undergraduate majors and more than 70 master's and doctorate programs, as well as professional degrees in pharmacy and veterinary medicine.
Purdue University is a student-centered university that values academic excellence, supports growth and celebrates diversity.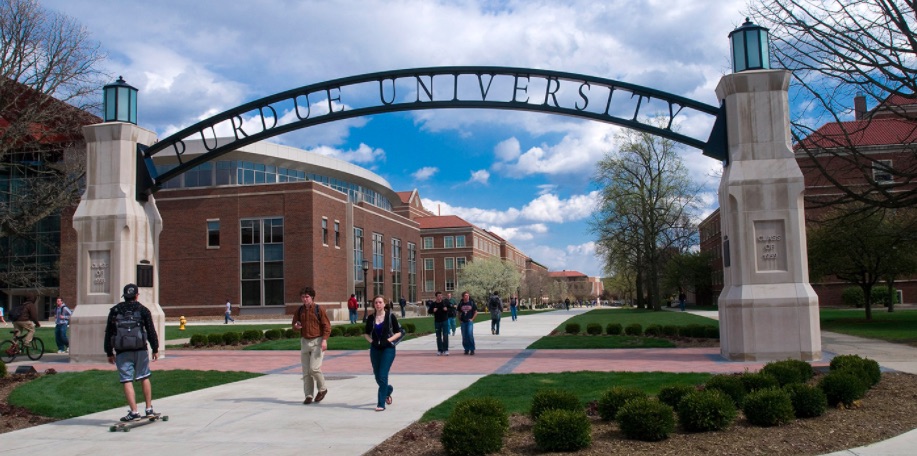 The Campus
The West Lafayette campus is the main campus in the Purdue University system, which encompasses four other campuses throughout the state.
Academic buildings are mostly concentrated on the eastern and southern parts of campus, with residence halls and intramural fields to the west, and athletic facilities to the north.
The southern portion of campus is home to Purdue's agricultural, fine arts, life sciences, and veterinary buildings. This area also includes the Horticulture Gardens, Discovery Park, Lyles Porter Hall, the Purdue Airport and Krannert School of Management. The Krannert School of Management has been nationally and globally ranked for both undergraduate and graduate degree programs. The western portion of campus consists of student housing, dining, and recreation facilities. Students can play club and intramural sports at the Córdova Recreational Sports Center, the Boilermaker Aquatic Center, and the intramural playing fields in this area.
Programs at Purdue
The university has four notable scientists that have won Nobel Prizes: Herbert C. Brown for Chemistry in 1979, Ei-ichi Negishi for Chemistry in 2010 and Otto Doering together with Kevin Gurney for Climate Change research in 2007.
In 2010 the newest school was founded: The College of Health and Human Sciences, combining the School of Nursing, the School of Health Sciences, the College of Consumer and Family Sciences and psychology and hearing and speech pathology majors from the College of Liberal Arts.
Purdue University has a long and rich history in health care for the student-athlete and in athletic training education it's home to 18 intercollegiate sports teams and more than 900 student organizations.
Sports
The Boilermaker football and basketball teams represent Purdue University in the NCAA division.
The reputation of Purdue's athletic training education program reaches nationwide.  Graduates of the program are head and assistant athletic trainers in the NFL, the NBA, the Big Ten, and the Pac-10, as well as other conferences across the country.  Alumni are employed in high schools, rehabilitation clinics, industry, performing arts, and in physician offices in all parts of the United States.
In Purdue Athletics history, there have been more than 9,000 student-athletes, coaches and administrators.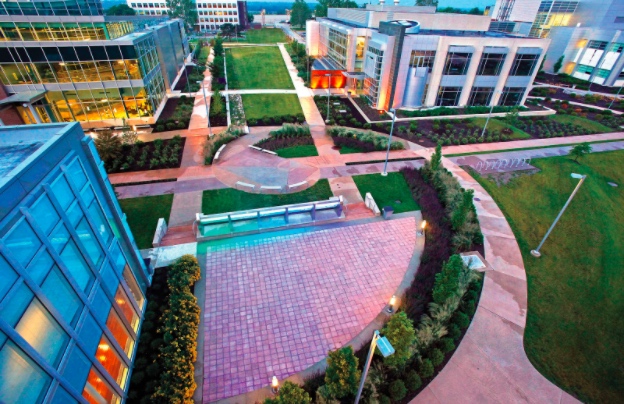 Discovery Park
In 2001, Purdue University's Discovery Park was just an idea, launched with a $5 million commitment from the state of Indiana for a nanotechnology center.
Today, it's more than a $1.15 billion research and learning complex of centers and institutes, where faculty and students use an interdisciplinary approach to tackle the global challenges.
Discovery Park has helped Purdue establish strong relationships with universities and institutions from around the world, and has become a key gateway for entrepreneurship activities for the university. Purdue reaches another record year of sponsored research funding, reaching $418.3 million in fiscal year 2017.
Purdue's strategic aim to capitalize on it's core competencies in STEM, nanotechnology and advanced instrumentation, big data, entrepreneurship, the social sciences, and understanding complex systems, makes it a national and global leader in discovery and innovation.
Nestled on 40 acres on the southwest edge of Purdue's West Lafayette campus, the complex of facilities provides open, collaborative research environments where interdisciplinary projects are connected throughout Purdue, Purdue Research Park and the world.
In addition to more than 400 research labs, the Purdue Research Park, established in 1961, enables the university's experienced researchers to develop their work in collaboration with private business and high-tech industries.
For admissions information about Purdue University, you can learn visit this link, or stay tuned for the next USEG tour where they will be coming to a nearby city in the Middle East.
People who enjoyed this post also read: