Type: Private, 4-year university
Setting: Suburban campus

Size: a little over 2,500 undergraduates

Cost: $28,480 per year (not including room/board because it depends on where you want to live)

Degree offerings: Bachelor's, Master's, First Professional
Greetings! I hope you enjoyed my last post about Otterbein College. Today, I am bringing you along with me to Capital University, located in Bexley, OH and just down the street from downtown Columbus. Capital is a 4-year university that is well known for their music, nursing, and law programs. The school enrolls about 3000 students annually, with a majority of the students coming from Midwest and a small percentage of students coming from around the world. From its statistics, it doesn't look like Capital is a very diverse campus, as acknowledged by one of the admissions counselors I had the pleasure of speaking with. According to the counselor, "diversity is something every university is always trying to improve."
How to get to the International Students page
Before we begin, let's go over how to get to the International Students section of the website. From the home page, click on the blue Future Students link (located on the left hand side of the page) and follow it to Capital's Admissions page. From here, click on "Admissions" and then choose the International Students option from the pop out that will follow from rolling over the link.
Campus and the surrounding area
If I had to choose one word to describe Capital's campus, it would have to be "professional." Capital's campus is not ugly – all of the buildings are red-bricked and there are a lot of green spaces for such a small campus – but it's not what I would call beautiful either. I think its campus suits its students – a professional campus for (mostly) pre-professional major students – there are a lot of pre-meds and business majors at Capital.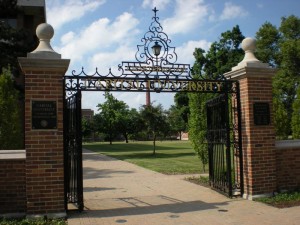 One of the best things about Capital is its location. Although it is located in a small town in Ohio, Capital is still very close to downtown Columbus – the Columbus skyline can be seen from campus – which is a great option for those who need to escape small-town life. Because it is located in a Bexley, Capital's campus is very safe and everything is within walking distance (the convenience stores and public library are just down the street). For those who need to travel a farther distance, Capital does allow all of its students to have cars on campus as long as they have bought the appropriate parking pass. Capital is located approximately 6 miles away from the airport, so I recommend that you be-friend someone with a car who is willing to take you to/from the airports after breaks.
Life at Capital
Of course, if you cannot go home for breaks, Capital does leave its residence halls open for international students who cannot travel back home. You just need to notify the university that you will be staying over break beforehand. Speaking of residence halls, Capital has 5 co-ed residence halls and 2 on-campus apartments. Most students actually choose to live on campus because it's much more convenient.
In terms of campus life, there is always something going on. Capital has a variety of clubs and organizations that students can get involved in. For those who want to become involved in Greek life (which is quite active on campus), there are several local fraternities and sororities to choose from. And of course, for those who want to become much more active spiritually, there are a number of faith-based organizations to join, as well as many non-denominational prayer services to attend in the campus chapel. Of course, for those who want more options, heading into downtown Columbus is always an option – there you will find many bars, clubs, museums, and restaurants.
Resources for international students
Capital truly wants all of its students to thrive in a welcoming environment, particularly its international ones. In order to make international students feel more comfortable at Capital, the university has set up many services geared towards assisting international students in transitioning into a different culture. These services include English as a Second Language classes, close communication with the International Education Office, and also special dietary options in the dining hall.
The University also has tutoring available for every student through their Center for Excellence In Learning and Teaching. This service is free and open to any student who may need the extra help.
To sum it all up …
Overall, I had a really positive experience at Capital. My tour guide was very nice and helpful, and I felt incredibly welcomed during my visit. With the vibe that I received from Capital's campus, I think those who are looking for a welcoming place to start their professional and corporate careers would find a great home there. I hope those of you who do fall into these categories will consider Capital as an option on your college list. For those who are not looking for an undergraduate experience with Capital, I do suggest that you consider Capital when you are considering graduate schools. Capital's graduate programs have been highly praised by US News and World Reports' Annual College Rankings.
For even more information about my tour, please click here. As always, please be sure to look at the campus photos. If you should have any questions, please feel free to leave a comment.
[flickr-gallery mode="photoset" photoset="72157620572513356″]
People who enjoyed this post also read: