By Barbara Rodriguez, Associated Press
Friday, January 2, 2009; A04

RALEIGH, N.C. — For her college interview, Avery Cullinan put on her best outfit but didn't bother with shoes. She sat in her living room, smiled into her computer's webcam and told an admissions officer more than 800 miles away that Wake Forest University was right for her.
"It's hard to part with money for a half-hour interview," said Cullinan, who avoided a costly trip from her home in Newburyport, Mass., to Winston-Salem, N.C., by using the pilot program at Wake Forest. She was later accepted.
The online interview was part of a push that started in May at the university. Admissions director Martha Allman said she eventually wants to give each applicant — more than 9,000 of them each year — a more individualized review before inviting them to Winston-Salem as part of the university's 1,200-student freshman class.
Although a new process at the undergraduate level, webcam technology has been used for years by at least a dozen graduate programs — including Pennsylvania State University, the University of Georgia and Arizona State University — to interview prospective students.
David Hawkins, public policy director for the National Association for College Admission Counseling, said he expects the trend to grow.
"Looking ahead, colleges will try to pursue the kind of technology that will create a personal approach to the admission process," said Hawkins, noting that he was not aware of any school other than Wake Forest offering webcam interviews to undergraduate applicants.
But while colleges and universities have increased their online outreach to a generation raised on the Internet, there are still logistical hurdles to webcam interviews. The most notable, Hawkins said, is that financially strapped students may not have the easiest access to a computer.
"There are some limitations to it," he said. "The technology is still not as widely available in order to make it effective."
But Carrie Marcinkevage, director of MBA admissions at Pennsylvania State's Smeal College of Business, where webcam interviews have been offered for three years, said colleges' resistance to change is a bigger issue than students' lack of Internet access.
She said her program's applicants are offered several options for online interviews, including Skype Internet telephone service and Yahoo, AOL or Google instant messaging. All are free or relatively inexpensive, she said.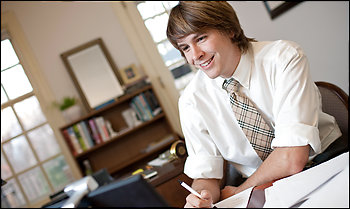 "It's literally a matter of speaking their language. I don't think it's the students. It's the unfamiliarity of the staff that doesn't know how to use it," said Marcinkevage, cautioning that the virtual world should not replace an actual campus visit when students make their final choice.
After a successful round of Web-based interviews in the early admission process, Wake Forest offered the program to its entire undergraduate applicant pool — a decision that doubled the number of requests for such interviews.
"We decided this would be a wonderful alternative to the face-to-face interview," Allman said. "We have to stay attuned to how students receive information and how they communicate."
Cullinan, who used her own computer to interview with Wake Forest, said most students can at least borrow Internet access from family, friends or even the local library.
"If you really need to, there are ways to do it," she said.
See the article on the Washington Post website: http://www.washingtonpost.com/wp-dyn/content/article/2009/01/01/AR2009010101935.html?
Photo credit: Nelson Brunsting of Wake Forest University demonstrates how the North Carolina college uses webcam technology to interview prospective students. (Wake Forest University Via Associated Press)
People who enjoyed this post also read: