These great photos made their way to us this morning, and we thought our international readers would enjoy seeing them. Looking through them I don't see a big difference – people are having fun, groups of students are enjoying their college time together. Granted, everyone is dressed nicely and for some reason appear to be well over the age of 18, but looking through them I see student life as it is today.
College life may look different today, with Uggs, sweatpants, and phones glued to everyone's ears, but at the end its still about education, friendships, networks, and more than just classes.
Enjoy!


"]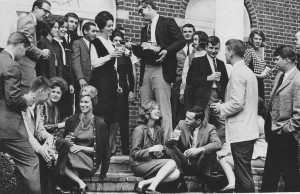 Be sure to visit the website Portrait of The University for more amazing photos of college life & to submit any you may have!
The Official Guide to the TOEFL iBT with CD-ROM, Third Edition
Cracking the TOEFL iBT with CD, 2010 Edition (Test Preparation)
Kaplan TOEFL iBT with CD-ROM
People who enjoyed this post also read: