US Educational Group is heading to the following countries in October 2010 with a number of US Colleges, Universities, and English Language Centers. We encourage you to register and attend the events where you will meet with international student admissions officials and speak to them about your interest in studying in the USA.
Learn about the American higher education application process, I-20 issues, university costs, housing, and more. Speak with representatives about admissions tests and test preparation including TOEFL®, SAT®, GRE®, and GMAT®. A face to face meeting is the best time to explore opportunities for higher education in the United States and ask questions about scholarship opportunities.  The Al Jamiat / US Educational Group Tour is free of charge and open to the public.
October 2010 US College Fair Schedule
Beirut, Lebanon         October 11th, 2010
Movenpick Hotel & Resort – Raouche
Fair Time: 6 p.m.–9 p.m.
Jeddah, Saudi Arabia         October 13th, 2010
Effat University
Fair Time: 6 p.m.–9 p.m.
Kuwait City, Kuwait   October 16th, 2010
Marina Hotel
Fair Time: 6 p.m.– 9 p.m.
Manama, Bahrain     October 18th, 2010
Sheraton Hotel
Tour Time: 6 p.m.–9 p.m.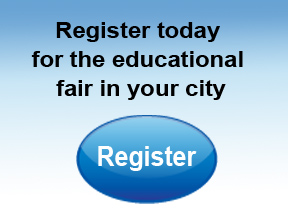 Doha, Qatar     October 20th, 2010
The Diplomatic Club
(near the Ritz Carlton)
Fair Time: 6 p.m.–9 p.m.
Dubai, UAE              October 23rd, 2010
American College of Dubai
Fair Time: 6 p.m.– 9 p.m.
Amman, Jordan        October 25th, 2010
Sheraton Amman Hotel
Fair Time: 6 p.m.–9 p.m.
We hope to see you there! Send us a message or leave a comment if you have any questions!
People who enjoyed this post also read: